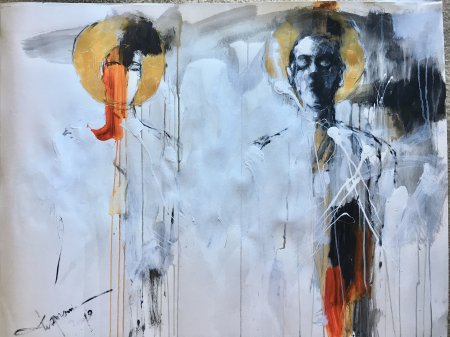 Icons of War
Paintings by Lukman Ahmad
Artist Statement
These paintings describe the circumstances of war, and how war can change our human nature and awaken the instinct of murder inside us and turn our lives from brothers and friends to predatory enemies. I am from a country that is still suffering from the consequences of war. For that reason, I try in my work to convey a sense of these tragic stories.
About the artist Lukman Ahmad
Through expressionism and imagination, Lukman presents the spectrum of a human experience, and invites the viewer to know another culture.
Syrian born, Lukman reflects the Kurdish experience as well as the human experience. Self-educated, and deeply in touch with his people and with the intertwined surrounding cultures, he expresses imagination and experiences with authenticity, allowing color and movement to tell the story, be it one of pain or of happiness, of contemplation or passion. Whether in painting or in playing the qanoon he combines symbolism and imagination, color and rhythm, to transport the viewer into the world he lived and the emotions he witnessed.
Since the beginning of the war in Syria, Lukman has participated in many art collective events in Germany and the US, with the latest being Colors and Hope for Rojawa, in front of the National Gallery of Art, DC in November 2019.
Lukman has had over 45 exhibits in various countries, including Germany, France, Egypt, Switzerland, Syria, Turkey, Iraqi Kurdistan, Lebanon and the United States. A partial list of exhibitions includes exhibits solo exhibits in Washington, D.C. with the Foundry Gallery (2012), the Voice of America (2015), and the Jerusalem Fund Gallery (2013, 2019); Syra Arts (2018) and group exhibits including the West Branch Gallery and Sculpture Park in Stowe, Vermont (2016), Artomatic in Maryland (2012, 2015, and 2016), the Ackland Art Museum with the University of North Carolina (2011), and the Workhouse Art Center in Virginia (2014).
Additionally, in 2018 Lukman collaborated in the award-winning film, The Last Dance of Kocho and Its Missing Girls now translated into dozens of languages and viewed worldwide.
In July 2014 Islamic State in Iraq and Syria (ISIS) militants descended on Kocho, a Kurdish-speaking Yazidi village in northern Iraq, demanding that villagers convert to Islam. The following month ISIS soldiers separated Yazidi males from females, and young from old. Many older men and women were killed, and hundreds of young Yazidi girls were kidnapped from Kocho and other Yazidi villages. The girls were sold, raped and abused, and only a few have been rescued or escaped.
"Voice of America journalist Amish Srivastava and Syrian Kurdish artist Lukman Ahmad, collaborated to tell the victims' stories in a unique and effective way. Ahmad painted 70 watercolor panels to illustrate the shocking incident, focusing on memories of the resilient survivors, including Nobel Prize winner Nadia Murad, Bushra Elias and Lamiya Bashar. Using a combination of Ahmad's paintings, video clips of the girls dancing at a wedding celebration before their kidnapping, and news reports, The Last Dance of Kocho...and its Missing Girls, is a 12-minute film that is heartbreaking, but not traumatizing, to its viewers."
For details and purchasing information, contact dagmar.painter.curator@gmail.com